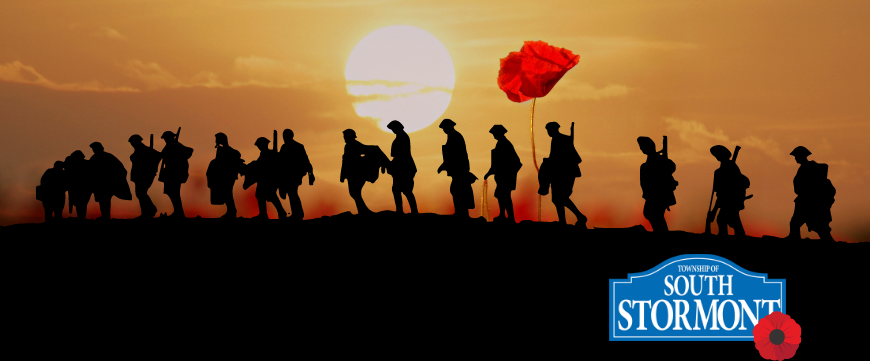 On Friday, November 11th, the Township Office will be closed in recognition of Remembrance Day.
Contrary to the information in the 2022 Fall Community Guide, there will be NO CHANGES to garbage and recycling collection due to this holiday. Regular collection will take place as normal on November 11, 2022.
---
2022 Remembrance Day Ceremonies
Each year, the two local branches of the Royal Canadian Legion that service the Township of South Stormont host ceremonies to remember the brave men and women who served for their country and paid the ultimate price. Below are the scheduled ceremonies for the Long Sault Legion Branch 569 and the Finch Legion Branch 357.
Long Sault Legion Branch 569:
The Long Sault Legion Branch will hold their annual Remembrance Day Ceremonies on Sunday, November 6, 2022.
At 9:45 AM, a scaled back parade will march from the Ingleside Fire Hall to the Ingleside Cenotaph to commence the service at 10:00 AM. Following this service, the parade will form up at the Lost Villages Museum on Fran Laflamme Drive, off Highway 2, east of the church. The parade will then march to the cenotaph for the service, which is scheduled to commence at 11:00 AM.
Finch Legion Branch 357:
There will be only one service for the Finch Legion Branch this year at MacIntosh Park in Berwick on November 11, 2022 at 11:00 AM. Wreaths on behalf of the Township will be laid at the Newington Cenotaph.