Posted on Wednesday, November 18, 2020 09:09 AM
Cornwall & The Counties Community Futures Development Corporation is pleased to announce that through the Regional Relief and Recovery Fund (RRRF) provided by FedDev Ontario we have contracted a bilingual, temporary, full-time COVID-19 Business Relief Advisor to assist business owners throughout Akwesasne, Cornwall, and the United Counties of S.D. & G. Her role will be to help applicants navigate all the programs available for support through the hardships of COVID-19.

This new team member...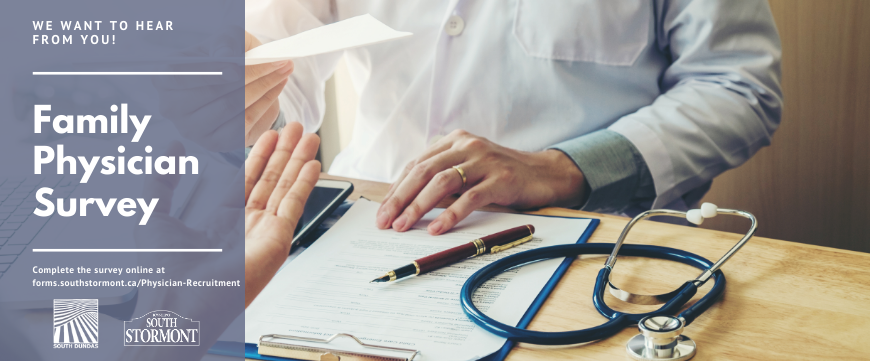 Posted on Friday, October 09, 2020 10:16 AM
Although physician recruitment is a challenge for rural communities across Canada, it has not dampened the spirits of the joint Physician Recruitment and Retention Committee between the Municipality of South Dundas and Township of South Stormont.
The Committee, which was launched in May 2019 to address the lack of local physicians, is now taking the first step with a new survey aimed at gathering information from residents on their current family physician arrangement, or lack thereof.
"We need the...
Posted on Thursday, August 20, 2020 02:59 PM
South Stormont, ON - The Township of South Stormont has received a vote of confidence from the Board of Directors of the St. Lawrence Parks Commission (SLPC) after they have approved a conceptual vision for the development of strategic waterfront locations.
The Waterfront Development Plan presents an opportunity to strengthen the partnership between the Township and the SLPC while providing improved access and enhanced recreational opportunities to the waterfront for residents and visitors.
"The...
Posted on Saturday, September 19, 2020 05:39 PM
TORONTO — The Ontario government, in consultation with the Chief Medical Officer of Health and the Public Health Measures Table, is reducing limits on the number of people permitted to attend unmonitored and private social gatherings across the entire province. Earlier this week, the government imposed these restrictions in Toronto, Peel Region and Ottawa.
The details were provided today by Premier Doug Ford and Christine Elliott, Deputy Premier and Minister of Health.
"Over the past...

Posted on Friday, September 18, 2020 03:09 PM
The Raisin Region Conservation Authority (RRCA) reached a major milestone in 2020: the planting of 1 million trees in the region since 1994 through public and private landowner partnerships.
On September 17, the RRCA staff and Board gathered to celebrate the achievement by planting the one millionth tree, a sugar maple, at the RRCA's main office located in Gray's Creek Conservation Area. The 8-member Board consists of representatives from the City of Cornwall and Townships of South Glengarry,...