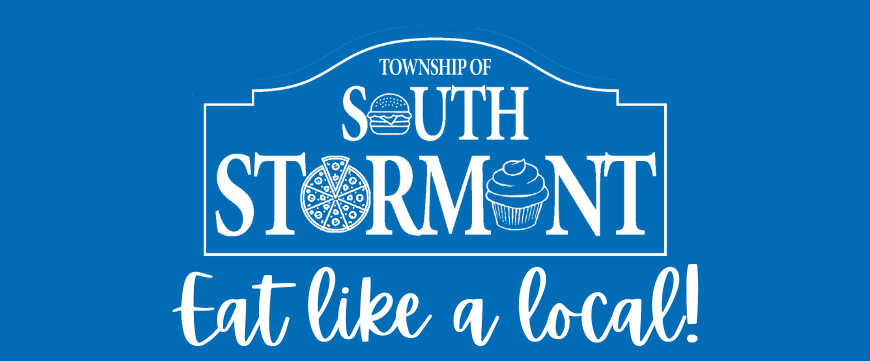 Posted on Wednesday, April 14, 2021 11:25 AM
The pandemic and the associated lockdowns have had an affect on all of us, including our local eateries.
Restaurants have been restricted to takeout and delivery service only, and are undoubtedly feeling the pinch of a year-long rollercoaster of restrictions in place that have affected their ability to earn and serve the community.
Many of our local restaurant owners are proud supporters of the community, and we are encouraging our residents that to support these important local businesses...
Posted on Monday, March 29, 2021 10:55 AM
On Wednesday, March 24, 2021, Council for the Township of South Stormont formally adopted the 2021 operating and capital budget for Corporate, Water and Wastewater purposes. After budget deliberations held on March 6 and 16, the 2021 budget represents a 1.85% tax rate increase from 2020.
"Every budget presents its own challenges," states Mayor Bryan McGillis. "This year, we had to consider the impact of the pandemic on our residents, but also on the Township itself. We feel we have produced a budget...
Posted on Wednesday, November 18, 2020 09:09 AM
Cornwall & The Counties Community Futures Development Corporation is pleased to announce that through the Regional Relief and Recovery Fund (RRRF) provided by FedDev Ontario we have contracted a bilingual, temporary, full-time COVID-19 Business Relief Advisor to assist business owners throughout Akwesasne, Cornwall, and the United Counties of S.D. & G. Her role will be to help applicants navigate all the programs available for support through the hardships of COVID-19.

This new team member...
Posted on Thursday, August 20, 2020 02:59 PM
South Stormont, ON - The Township of South Stormont has received a vote of confidence from the Board of Directors of the St. Lawrence Parks Commission (SLPC) after they have approved a conceptual vision for the development of strategic waterfront locations.
The Waterfront Development Plan presents an opportunity to strengthen the partnership between the Township and the SLPC while providing improved access and enhanced recreational opportunities to the waterfront for residents and visitors.
"The...
Posted on Tuesday, December 20, 2022 10:50 AM
The Township Office will be closed from December 23 at noon until Tuesday, January 3, 2023.
On behalf of Council and Staff, we wish everyone a very happy holidays season and wish you all the very best in the coming year!
Important Waste Management Information
There will be NO CHANGES to regular garbage and recycling collection schedules over the holidays.
The Trillium Road Landfill will be closed at noon on Christmas Eve (December 24) and New Years Eve (January 31).
Curbside...