Posted on Friday, July 09, 2021 02:26 PM
Landowners in the Raisin Region Conservation Authority (RRCA)'s watershed jurisdiction who are interested in adding life to idle land by planting over 500 trees on their properties can take advantage of the RRCA's full-service tree planting program. In preparation for the spring 2022 planting season, RRCA staff have already booked 25 free site consultation visits with local landowners, some of whom are planning to add up to 7,000 trees on their property.
"Site consultations are an opportunity for...
Posted on Wednesday, June 30, 2021 10:32 AM
Township Office Closure and Garbage Collection Changes
The Township Office will be closed on Thursday, July 1 for Canada Day. Staff will return to serve you on Friday, July 2 for regular business hours.
Garbage and recycling collection will be delayed due to the holiday. Garbage/recycling regularly scheduled for pick up on Thursday will be moved to Friday July 2nd, and garbage/recycling regularly scheduled for pick up on Friday, will be moved to Saturday July 3rd.
Canada Day Community...
Posted on Tuesday, June 29, 2021 11:50 AM
Please be aware that the Boil Water Advisory for the villages of Ingleside and Osnabruck Centre issued on June 27, 2021 has been lifted by the Eastern Ontario Health Unit.
The most recent water samples indicate that the water is now potable and safe to drink.
We thank you for your patience throughout this advisory.
Notice of Boil Water Advisory Being Lifted By Eastern Ontario Health Unit
Posted on Monday, June 28, 2021 04:37 PM
In response to concerns the Township received regarding the communication for the recent Boil Water Advisory issued for the villages of Ingleside and Osnabruck Centre, Mayor Bryan McGillis and CAO Debi LucasSwitzer have issued the following letter to residents and business owners.
The original signed letter can be viewed here. The content of the letter has been copied below.
---
June 28, 2021
To the Resident and Business Customers of the Ingleside Water Plant:
In response to the various emails,...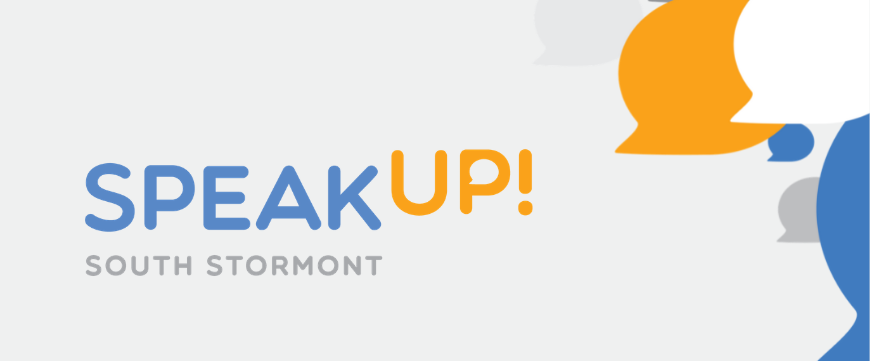 Posted on Monday, June 14, 2021 09:33 AM
To further public engagement efforts, the Township of South Stormont has launched a new online portal to allow residents to share their ideas with the Township, engage with staff and fellow community members, and stay up-to-date on the latest Township initiatives.
Speak Up South Stormont, launched on Monday, June 14, incorporates a number of tools to allow for different levels of engagement, based on the needs of the project.
"Council and staff have made a commitment to residents of South Stormont...