Posted on Friday, December 17, 2021 03:05 PM
South Stormont, ON – On Wednesday, December 15, 2021, Council for the Township of South Stormont officially adopted the 2022 Municipal Operating and Capital Budgets. The 2022 budget represents a 3% municipal tax rate increase.
Some of the capital projects scheduled for 2022 are:
Maloney Road reconstruction
Headline Road asphalt overlay
Lefebvre Road Bridge reconstruction
Lakeside Drive reconstruction
Waterfront Development Plan supporting studies, design and placemaking improvements
Long Sault...
Posted on Tuesday, November 23, 2021 09:44 AM
The Eastern Ontario Health Unit (EOHU) is pleased to announce that appointments offering the Pfizer COVID-19 vaccine to children aged 5 to 11 will be available on Ontario's COVID-19 vaccination portal as of 8:00 AM on Tuesday, November 23, 2021.
The Pfizer vaccine is currently the only COVID-19 vaccine that has been authorized by Health Canada for use in children aged 5 to 11. To be eligible for the vaccine, children who live or study in Ontario must either be 5 years old or turning 5 in 2021 (born...
Posted on Tuesday, November 02, 2021 10:04 AM
Special Council Meeting dates have been established for Council to consider the proposed 2022-2024 Budget.
The first meeting will be held on Wednesday, November 3 beginning at 10:00 a.m. and the second meeting will be held on Wednesday, November 17, 2021 beginning at 5:00 p.m.

To view the livestream of each of these meetings, please visit our Council Meetings Page.
For more information on the 2022-2024 Budget process, please visit our 2022-2024 Budget Page on Speak Up South Stormont.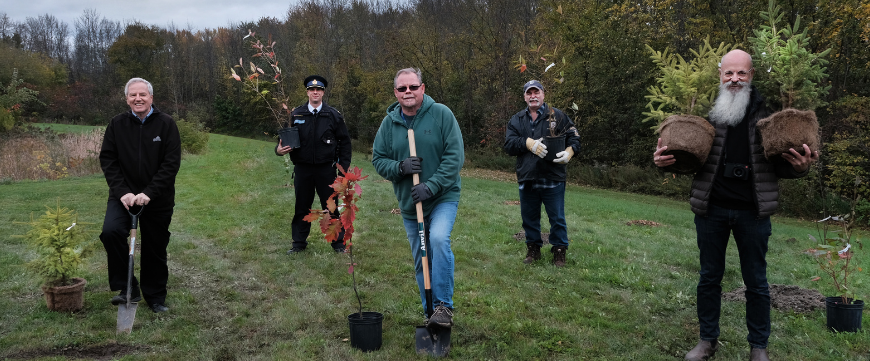 Posted on Monday, October 25, 2021 08:37 AM
Raisin Region Conservation Authority (RRCA) board members and staff were recently joined by Township of South Stormont Council members and staff, as well as members of the Ontario Provincial Police and the general public in planting nearly 300 native tree and shrub species on the grounds of the Township's municipal office, which border the south branch of the Raisin River.
"When it comes to improving our local environment, every effort counts" says South Stormont Mayor and RRCA Chair, Bryan...
Posted on Wednesday, October 06, 2021 08:33 AM
Please be advised, Hoople Seventh Road in Newington will be closed between Helmer Road and MacRae Road on October 15th from 9:00 am until 2:00 pm for culvert replacements.