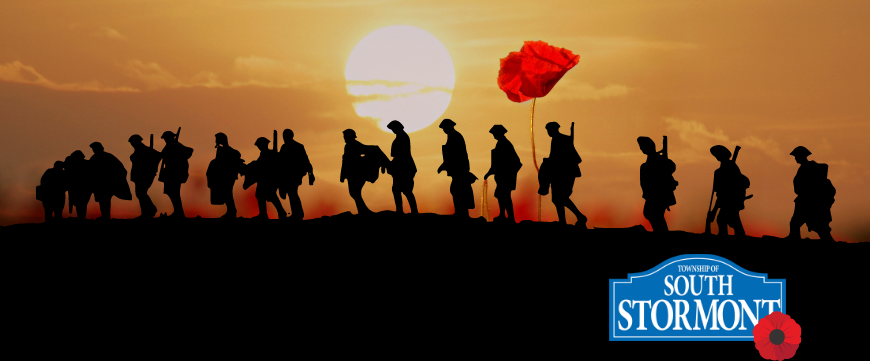 Posted on Tuesday, November 01, 2022 02:23 PM
On Friday, November 11th, the Township Office will be closed in recognition of Remembrance Day.
Contrary to the information in the 2022 Fall Community Guide, there will be NO CHANGES to garbage and recycling collection due to this holiday. Regular collection will take place as normal on November 11, 2022.
2022 Remembrance Day Ceremonies
Each year, the two local branches of the Royal Canadian Legion that service the Township of South Stormont host ceremonies to remember the brave...
Posted on Wednesday, October 26, 2022 03:49 PM
South Stormont, ON – On Monday, October 24th, the 2022 Municipal and School Board Elections were held across the province to elect new municipal councils and school board trustees for the term of 2022-2026.
The Township of South Stormont election included races for Mayor, Deputy Mayor, Councillor (x3) and the English Public School Board Trustee.
Votes were collected online from October 19 – 24, through in-person advanced poll opportunities at the Township Office from October 19 – 23, and finally...
Posted on Monday, October 24, 2022 08:58 PM
The unofficial results for the 2022 Municipal Elections in South Stormont have been tabulated. Below is a list of the unofficial new members of Council and English School Board Trustee. A full list of the the unofficial results can be found in the PDF document below.
Mayor: Bryan McGillis
Deputy Mayor: Andrew Guindon
Councillor: Jennifer MacIsaac
Councillor: Reid McIntyre
Councillor: Cindy Woods
English Public School Board Trustee: Curtis Jordan
Full Unofficial Results of South Stormont 2022...
Posted on Tuesday, September 27, 2022 08:55 AM
Please note that the Township Office will be closed on Friday, September 30th in recognition of the National Day for Truth and Reconciliation to honour survivors and the children who did not come home from Residential Schools.
The Trillium Road Landfill will be closed as well on Friday, September 30th.
Garbage and recycling collection scheduled for Friday pickup, will be collected on Saturday, October 1.
Posted on Monday, September 26, 2022 02:40 PM
Cogeco staff and their family members took part in the telecommunications and media company's second annual Community Involvement Day by enhancing a local greenspace in South Stormont. The Raisin Region Conservation Authority (RRCA) and the Township of South Stormont facilitated the Cogeco staff's planting of ten white birch trees at Lakeview Park, a riparian area on the bank of the St. Lawrence River. The park is located on Avonmore Road just South of County Road 2, between Long Sault and Cornwall.
The...