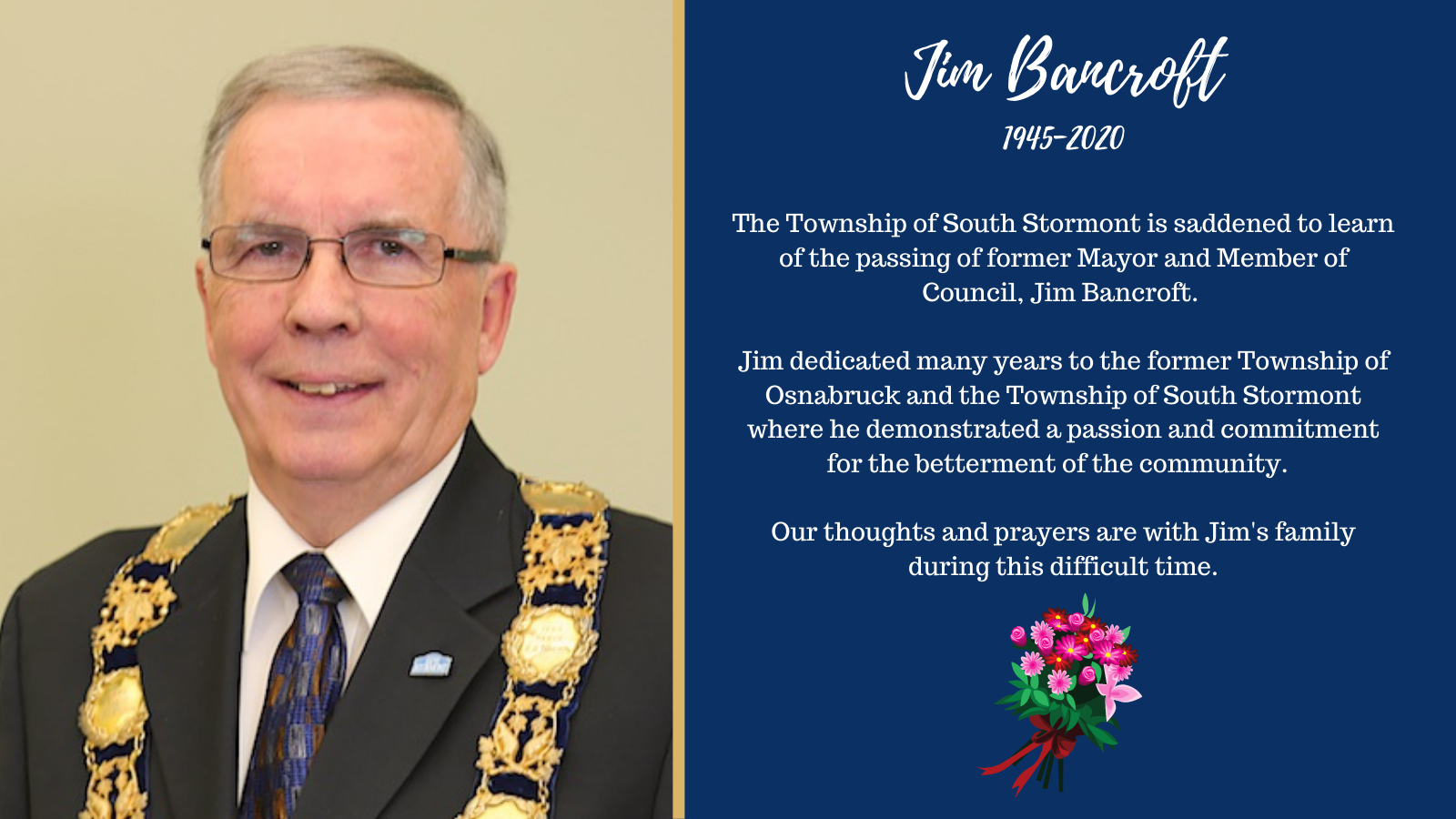 Posted on Tuesday, December 01, 2020 03:24 PM
Council and Staff are saddened to learn of the passing of Jim Bancroft, former Councillor, Reeve / Mayor. Mayor Bancroft dedicated many years to the service of his community as a member of Council of the former Township of Osnabruck and the Township of South Stormont. Jim served on numerous committees and community groups in support of the residents of the municipality. Flags at Township buildings will fly at half mast in memory of Mayor Bancroft. Our Thoughts and prayers go out to Jim's family...
Posted on Wednesday, November 18, 2020 09:09 AM
Cornwall & The Counties Community Futures Development Corporation is pleased to announce that through the Regional Relief and Recovery Fund (RRRF) provided by FedDev Ontario we have contracted a bilingual, temporary, full-time COVID-19 Business Relief Advisor to assist business owners throughout Akwesasne, Cornwall, and the United Counties of S.D. & G. Her role will be to help applicants navigate all the programs available for support through the hardships of COVID-19.

This new team member...
Posted on Thursday, August 20, 2020 02:59 PM
South Stormont, ON - The Township of South Stormont has received a vote of confidence from the Board of Directors of the St. Lawrence Parks Commission (SLPC) after they have approved a conceptual vision for the development of strategic waterfront locations.
The Waterfront Development Plan presents an opportunity to strengthen the partnership between the Township and the SLPC while providing improved access and enhanced recreational opportunities to the waterfront for residents and visitors.
"The...
Posted on Tuesday, January 12, 2021 03:52 PM
In response to a doubling in COVID-19 cases over the past two weeks, the real and looming threat of the collapse of the province's hospital system and alarming risks posed to long-term care homes as a result of high COVID-19 transmission rates, the Ontario government, in consultation with the Chief Medical Officer of Health and other health experts, is immediately declaring a second provincial emergency under s 7.0.1 (1) of the Emergency Management and Civil Protection Act (EMPCA).
Details...
Posted on Saturday, September 19, 2020 05:39 PM
TORONTO — The Ontario government, in consultation with the Chief Medical Officer of Health and the Public Health Measures Table, is reducing limits on the number of people permitted to attend unmonitored and private social gatherings across the entire province. Earlier this week, the government imposed these restrictions in Toronto, Peel Region and Ottawa.
The details were provided today by Premier Doug Ford and Christine Elliott, Deputy Premier and Minister of Health.
"Over the past...